2008 Nissan Rogue Review
Here at NissanRogue.org headquarters, we have spent a couple years tracking the progress of Nissan's newest addition to the crossover vehicle market. From the development of this vehicle and the early concepts to the release of the European and Japanese market relatives, we knew Nissan would have a hit. Now finally, we have the real deal in stock at dealerships nationwide.
As evidenced by the Murano, 350Z and Titan releases, when Nissan steps into a new market, they do not tip-toe into the water, they dive right in! Will the Rogue be a strong contender in an already defined and competitive market? We believe it will.

NissanRogue.org puts Nissan's newest CUV through its paces:

Is it strange that the new Nissan CUV is named after a comic book character? No, I can get over that, but when I saw that the color code for the Rogue that I was about to drive is Gotham Grey, I started to wonder a bit about Nissan's marketing department. Maybe this little Sport Ute will be a superhero in a class of commoners?
At first glance, I find the Rogue to be pleasing to the eye. It's got some mix of sharp angles and smooth curves. It's got a bit of an aggressive off-road look, but more of a taught cityscape adventurer. Some people have labeled it a mini-Murano. The Rogue does share some of the rounded front end characteristics, but overall I'd have to say the lines draw a bit more from the Infiniti FX heritage. Admittedly, I'm not a fan of Nissan's recent front grill designs, and unfortunately the Rogue doesn't break this trend.
While it's true that the Rogue's chassis derives from the Sentra's C platform, it looks much closer to a midsize SUV than it does the stereotypical CRV or RAV4 size compact SUV's. The Rogue's height is just right. It doesn't try to squat like a station-wagon and conversely, it doesn't give the impression that it's an awkward handling SUV that might be prone to rollovers. It's tall enough to give a commanding view over the road, tall enough to offer some off-road ability, and tall enough to clear some imposing snow drifts. It is however, still a crossover vehicle. It's an on-road grocery-getter and to-work commuter.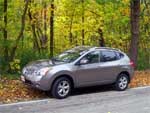 Nissan out did themselves on the interior of this vehicle. Unlike the oddities of the centered console in the Quest minivan, the seemingly detachable plastic gauge pod of the 350z, the Rogue is clean and organized and it is very sharp! It's not plush like a Cadillac or opulent like a Lexus. With large easy to read tachometer and speedometer, a smooth contoured steering wheel, a modern feeling gear shift knob, and a smooth charcoal and taupe two-tone color scheme, the Rogue has an inviting upscale feel to it. The seats are comfortable and supportive with multiple adjustment options. The ergonomics are pleasing with logical with easy to operate climate and audio controls, very convenient steering wheel controls for cruise and radio, and well focused and adjustable air vents. I'm a huge fan of the optional Blue-Tooth cell phone technology, and the Bose audio system does not disappoint.
The back seats are quite roomy, with plenty of leg-room and ample head space to make it comfortable even for taller adults. The only complaints I could lodge would be the poorly placed air vents and the impossibility of seating adjustments in the back seat. The back seat is a 60/40 split folding setup that gives the owner the opportunity to lay them down forward to make more use of the Rogue's cargo capacity. Designers made some nifty space out of the remainder of the spare tire area by incorporating a cargo organizer area replete with nets and partitions to help the owner secure grocery bags or other items of choice. The overall cargo space is a little tighter than I'd hoped. I blame the exterior design for this shortcoming as the raked roofline and curvaceous lines that give style to the look of vehicle also cut into the interior space a bit. But then, this is no minivan either. Thank goodness!
Let's fire this baby up!
The Rogue is powered by Nissan's QR25DE engine which claims 175 hp. This 4 cylinder 2.5 liter motor's short stroke results in an impressive torque output of 170 ft/lbs. This torquey power is an admirable feature in a sports car, but an invaluable characteristic for a CUV. The QR, which was first introduced in 2002 for the Sentra SE-R and soon after in the Altima, should prove to be an efficient and dependable engine choice for the Rogue. Even with the EPA's new rating system reducing the optimistic numbers put forth by manufacturers in recent years, the Rogue still boasts 21/26 in AWD and 22/27 in FWD configurations. This places it at the top of the class for its fuel efficiency.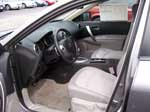 The most notable feature of the Rogue's drivability is the Continuously Variable Transmission or CVT. Nissan has shown great success with the use of this transmission in previous vehicles such as the Murano and Maxima. It's a great driving experience to feel the engine rev up and the transmission adapt to the engine's output to maximize performance. It's a unique experience to watch the tach rise to 3500 rpm's as you hit the onramp and feel the acceleration continue steadily until you've reached highway cruising speed. There is no running out of breath at high rpm's with the need to shift to the next gear. There is no jerk of your neck as the g-forces subside between shifts. You don't have to worry about spilling your drink all over your shirt as the car lurches from gear to gear. There is nothing but smooth steady acceleration until the driver reaches their desired speed and let's off.
The CVT is really cool, but we all know that there is some satisfaction to be had in running through the gears as well. So for those who claim no interest in this boring, effort free existence, listen to this: the Rogue's CVT system has a manual mode and is equipped with an adaptive logic computer system and paddle shifters on the steering wheel. The transmission computer adjusts the variable transmissions settings on the fly to emulate a standard transmissions feel. It revs up the rpm range as expected and as you shift to the next gear, it drops to a lower rpm range and starts to build again. The downside of not having a clutch to feel is quickly overcome by the novelty of the paddle shifters to make this a very enjoyable vehicle to drive aggressively. It's actually fun to drive, which is saying something from a CUV.
The Rogue's all wheel drive system is another unique system that should set it aside from any competitor. I-AWD or intuitive all wheel drive in the Rogue is a first to this market segment. The intuitive feature gets the jump on the competition by predicting potential loss of traction based on driver input. The mechanical features of this system are similar to any other in that they are predominantly front wheel drive output, but in the event of a loss in traction the differential shifts the traction basis to an all wheel drive output. This aids acceleration and cornering by shifting power away from slipping wheels to send it to the wheels that can grip. Nissan now takes this a step further. Engineers know most traction loss occurs at the start line. The Rogue will automatically convert to a 50-50 power split between front and rear wheels when accelerating from a stop. As the vehicle gets to cruising speed, that basis will revert back to full front wheel drive in order to be most efficient. Another common activity which results in traction loss is turning, so I-AWD predicts potential problems and automatically transfers to a 70-30 bias when taking moderate to sharp turns. The system still reacts to traction loss and sends power where needed, but it's improved over the standard brainless AWD systems. Now rather than waiting until a traction loss and adapting as quickly as possible, the Rogue is already prepared by having that power bias already set for those more common trouble times.
When you combine the I-AWD with the standard Vehicle Dynamic Control (VDS) which monitors yaw and prevents spinouts as well as the Traction Control System (TCS) which monitors traction between driver and passenger sides, the Rogue is a very safe and talented performer.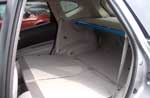 My overall opinion of the drive and ride quality is very good. While the engine is a little noisy or "buzzy" during acceleration, it quiets down nicely on the highway. Overall fit and finish gives no squeaks or rattles and build quality seems to prevent most outside road noise. The suspension is sporty and let's you feel some of the bumps of the road, but is not jarring or uncomfortable. The brakes feel strong and confident and the standard ABS ensure safe stopping.
This Rogue is one nice vehicle. But we all know that everything is relative to price. Another of the Rogue's most desirable attributes is the price tag attached to it. The Rogue tested by NissanRogue.org's staff was an AWD SL with the premium package and additional floor mats and splash guards. It did not come equipped with leather or moon roof. After destination fees the MSRP on this vehicle came in at $25,050. This price point puts it thousands less than the established high selling Toyota and Honda offerings.
Is the Rogue a superhero? No, my definition of a superhero is someone with a unique skill or ability that is beyond that of any other. Though the Rogue stands out from its competition with its CVT and I-AWD systems, it doesn't have any super-human abilities. Rather, it's strong and competent in all areas. An outstanding all around performer! The Rogue fits very well into the mold you'd expect from a CUV. It's smooth and comfortable enough to ride like a sedan. It's powerful and agile enough to give a fun ride and keep up to drive commands. It's stable and gives no worry of rollover or loss of control. It's tall enough to get to the campsite or handle some of winter's worst while giving the driver a nice view or the road. It's got enough space to carry a family's luggage. It's efficient enough to conserve gas money and not break the bank. The stereotype of "crossover vehicle" really does fit the Rogue.
Of course we're biased, but we consider the Rogue to be the new "class" of its class. While some may offer more power from their optional V-6 engines, more spacious interiors, or more dynamic looks, those advantages come at a price. For the price, the Rogue stands tall as the best pick.
###
Contributor: Seth Blackman (Eikon) is a Moderator for
NICOclub.com